House training a puppy, if a Bichon Frise, is not as easy as it looks. You can end up with hidden piles of poop and smelly stains on your carpet.
Housebreaking a puppy requires a strong commitment, patience, time and consistency.
Anyone who has ever had a child knows that toilet training isn't always an overnight success.  Your little Bichon is currently a baby, and he doesn't know intuitively, that he needs to go outside to do his business.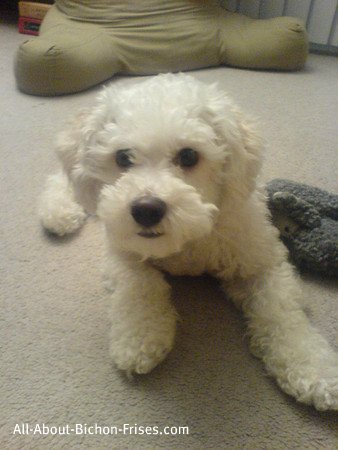 To be successful, for the first three months of your puppy's life, you will need to walk your dog at night.  Your puppy's digestive system simply isn't ready to "hold it" for much more than two hours.
Bichon Frise Puppy Potty Training
When you begin puppy potty training, make sure that you have all the equipment that you'll need, including a puppy crate and healthy dog treats.
If you dedicate yourself fully to the process of housebreaking a puppy, you'll find that your Bichon can be an admiral learner, particularly if you give him lots of love and praise.
These cute little dogs so want to make you happy! After all, you've just been thrust into the role of pack leader. That means you will have to be stern sometimes, but not harsh.
Bichons are sensitive, and they don't react well to yelling, which could actually undermine your training efforts, by causing nervous peeing.
How long does housebreaking take? – Generally speaking you can anticipate your potty training process to last a minimum of several weeks. And, with some stubborn personalities – several months.
Crate training – You'll find that crate training your Bichon is a great option. With a little gentle coaxing, your pup will begin treating the crate as home away from home. This means that you also have a safe enclosure for the pup when you have to run errands.
Positive reinforcement – Remember that your Bichon puppy needs to go out regularly and receive praise every time she is successful. This is part of conditioning. You and your family will have to take responsibility for keeping a consistent

schedule

.
Signs and signals – Nearly every puppy gives signs that they need to go outside. You may find that your puppy:

Goes to the door.
Some will begin sniffing.
Others will turn in circles
Some just look at you with that LOOK.
Still others may whine.
Or, you dog may bark to let you know that she needs to go out.

Pay attention to how your puppy tells you that she needs to go out. No matter what – take your dog out right away and let her try.
Pay attention to how your puppy tells you
that she needs to go outside.
Times to go out – The most common times that your pup will need walking are when he first awakens, and about 15 minutes after eating or drinking.  Also, if you have had a play session indoors, take your puppy outside when you are done playing.
If you find your puppy is having trouble connecting the dots when you are outside together, try a verbal command and repeat it the whole time she is sniffing around the yard.
Something like "go potty _____" works. Repeat this and when the dog does eliminate, say "GOOD POTTY ____" and get really excited.
In time, your pup will start going on command.
Business is Business
Going outside for business is NOT play time. Be present with your dog (but not playful), until the dog has either relieved himself or gotten completely distracted. Use specific words like "pee" or "poop" to tell your dog what you expect, and redirect her back to the activity at hand.
Reward positive results with lavish attention.
House training a puppy Bichon Frise need not be a bad experience. In fact, it can build the bond between you and your pup, making her love and trust you even more.
If you find you're struggling with house training a puppy, contact other Bichon owners or experts for a little insight and keep trying.
You can also find helpful information on housebreaking a puppy here.
The affection this breed gives you is more than worth the effort!
You might also like: