Bichons do not have many common dog health problems. Because they are hearty and healthy little dogs, dog health care is easy for this breed.
Of course you will consult with your veterinarian from time to time, but, your dog's good health is largely dependent on how well you take care of him.
You are responsible for everything from giving your dog a heart worm pill once a month to making sure he gets a regular checkup from time to time.
Some of the following common dog health problems in the Bichon Frise are preventable and some are inherited.
Bichon Frise Health Issues
Eyes, Ears, Nose and Throat Issues
Metabolic Disorders
Bichon Frise Joints and Bones
Bichon Frises and Their Environment
Choose a Healthy Puppy
Perhaps the most important part of picking a new puppy is choosing a dog that is healthy and has a strong immune system.  That will be partly determined by your puppy's ancestry and partly by his appearance.
Keep in mind that some medical conditions cannot be reversed, no matter what you do to improve your pet's health. Congenital conditions are simply passed from one generation to another.  A good breeder will breed only healthy dogs, with good blood lines.
However, aside from canine allergies, which are are one of the main Bichon Frise health issues, your new puppy or dog will probably be quite happy and healthy.
There are only a few common dog health problems to keep in mind when choosing your new Bichon Frise, and links to articles about those conditions are found above.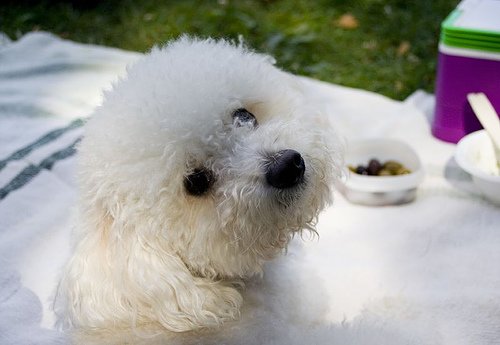 The Most Common Dog Health Problems
So what are the most common dog health issues for Bichon Frises?
Dog skin allergies and dog allergies of all sorts are the most common health Bichon Frise health issue.
In addition, most Bichon Frise owners also deal with a few common dog health problems that owners of other breeds also see:
Gum disease – If you keep your dog's teeth clean and give him dry dog food, you can minimize the risk of tooth decay and gum disease.  You really don't want your Bichon to lose her teeth!
Upset stomach and vomiting – While it seems like it would be simple to keep your dog from eating things bad for her, the truth is that, most dogs will eat something nasty once in awhile.  And then the upset stomach and vomiting (sometimes even diarrhea) will be the result.  It's not fun, but dogs can be sneaky little critters, and they love garbage and other nasty things…
Worms and fleas – Not a fun topic, worms and fleas can find your dog.  Be aware of any changes in bowel movements or scratching and biting.  Acting quickly can minimize the problem.
When choosing a new Bichon, puppy health is important. And you certainly want to know that the breeder has taken care to consider any congenital issues or health problems in the parents .
However, in general, Bichon Frises are quite healthy, and you probably won't have any major dog health issues to deal with. This breed has been spared most of the common dog health problems that plague many other dog breeds.
Good dog health care should result in many happy (and healthy) years together, with your special little Bichon Frise dog!
Get your FREE mini course about Bichon Frise now…