Common Dog Health Problems
There are not many common dog health problems for the Bichon Frise. In general, dog health care is easy for this breed.
Unlike other dog breeds, the Bichon does not have many dog health concerns.
You should consider a puppy's health, of course, when choosing a new dog.


Perhaps the most important part of picking a new puppy is choosing a dog that is healthy and has a strong immune system.
And some conditions cannot be reversed, no matter how much you do to improve your pet's health. Congenital conditions are simply passed from one generation to another.
However, aside from canine allergies, which are are one of the main Bichon Frise health issues, your new puppy or dog will probably be quite happy and healthy.
There are only a few dog health issues to keep in mind when choosing your new Bichon Frise…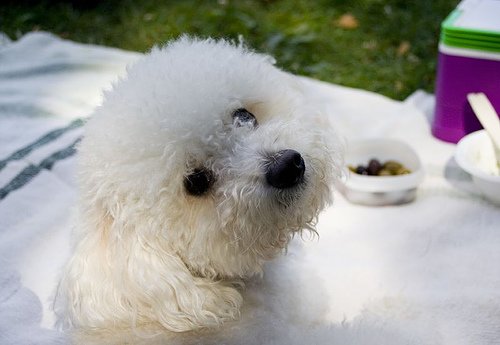 Do you know which dog conditions Bichons can have?
Make sure you know how to choose a healthy Bichon puppy.
Dog Health Concerns
for the Bichon Frise
So what are the dog health issues that you should be aware of?

Dog skin allergies and dog allergies of all sorts are the most common health Bichon Frise health issue.
While this breed is relatively healthy otherwise, you can have some dog health concerns arise.
Some of these common dog health problems in the Bichon are preventable and some are inherited.
When choosing a new Bichon, puppy health is important. And you certainly want to know that the breeder has taken care to consider any congenital issues.
However, in general, Bichon Frises are quite healthy, and you probably won't have any major dog health issues to deal with. This breed has been spared most of the common dog health issues that plague many other dog breeds.
Good dog health care should result in many happy (and healthy) years with your special little Bichon Frise dog!
Photo courtesy of FlyNutAA