Common Dog Health Problems
Bichon Frise Dog Health Issues
There are not many common dog health problems for the Bichon Frise. In general, dog health care is easy for this breed.
Unlike other dog breeds, the Bichon does not have many dog health concerns.
You should consider puppy health, of course, when choosing a new dog.
However, aside from canine allergies, which are are one of the main Bichon Frise health issues, your new puppy or dog will probably be quite happy and healthy.


There are only a few dog health issues to keep in mind when choosing your new Bichon Frise…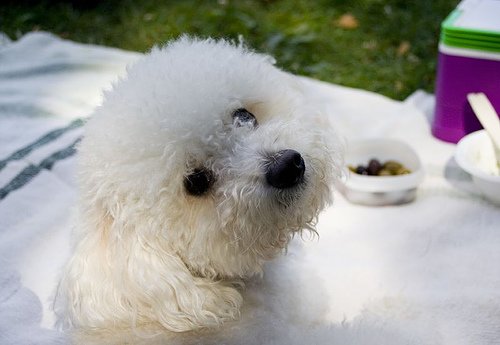 Do you know which dog conditions Bichons can have?
Make sure you know how to choose a healthy Bichon puppy.
Dog Health Concerns
for the Bichon Frise
So what are the dog health issues that you should be aware of?

Dog skin allergies and dog allergies of all sorts are the most common health Bichon Frise health issue.
While this breed is relatively healthy otherwise, you can have some dog health concerns arise.
Some of these common dog health problems in the Bichon are preventable and some are inherited.
Bladder stones in dogs
are fairly common in dogs, but more so in the Bichon.

Canine urinary incontinence

- if you have a younger dog who develops urinary incontinence, suspect bladder stones.
Luxating Patella in Bichon Frises - Usually an inherited condition, patella luxation is common in small dogs like Bichons...
Dog Incontinence Products
- If your dog is incontinent, one of the common dog health problems of older dogs, there are some ways to make things easier on your dog--and you!
Dog Heat Stroke
- Bichon Frises are prone to heat strokes because of their heavy coats--and especially if you have an active little dog who doesn't slow down when it's hot!

Dental cavities - Yes, dogs can get cavities, too. The best way to prevent this from happening is to give your pet a high quality, dry dog food. And you can also brush your dog's teeth.

Bichon Frise Salmonella Symptoms - How can you tell if your dog has contracted salmonella? Here are some things to look for...

Periodontal disease - This is what happens when your dog's mouth is neglected.

Dislocated knees - While Bichons usually don't have as dog joint health issue (like many large dogs), they can have dislocated knees.

Diabetes - Watching your dog's weight can help prevent diabetes.
Ear infections - Proper ear care can help prevent ear infections and other ear problems from developing.
Cushings disease
Obesity - While not a congenital condition, many Bichons become overweight as they get older. Giving your dog extra food is not giving him extra love. It can make him unhealthy!
Bichon Frise Health Problems - Bichons are fairly healthy dogs, but they are prone to some common dog health problems...
Ask a vet online
- If you have a question about dog health, this is an inexpensive way to get a good answer.
When choosing a new Bichon, puppy health is important. And you certainly want to know that the breeder has taken care to consider any congenital issues.
However, in general, Bichon Frises are quite healthy, and you probably won't have any major dog health issues to deal with. This breed has been spared most of the common dog health issues that plague many other dog breeds.
Good dog health care should result in many happy (and healthy) years with your special little Bichon Frise dog!

You might also like:




Common Dog Health Problems to Bichon Frise
Photo courtesy of FlyNutAA